| | |
| --- | --- |
| Rated DC voltage Range | 10kVdc to 150kVdc |
| Rated AC voltage range | 3.6kVrms to 120kVrms |
| Rated Capacitance range | 10pF to 20000pF individual |
| Capacitance tolerance | Standard ±10%, ±1% available |
| Withstand voltage test | Standard 1.5 times of rated voltage |
| Operating frequency | Max 30Mhz |
| Dissipation factor | Min 0.05% |
| AC Corona | Min 1pC available |
| Temperature properties | Min ±60ppm/°C upon request |
| Self-inductance | LS ≤ 30nH |
| Max impulse current | 50kA |
Product Types
Cixi AnXon Electronic is committed to providing customers with mature, high quality, high reliability and customized
high voltage ceramic capacitors. It is suitable for various high voltage, high frequency, high power, high temperature
and high current applications.The main materials are: NP0, COG, SL, DL, K1000, N4700, Y5T, Y5S, Y5P, Y5R, Y5U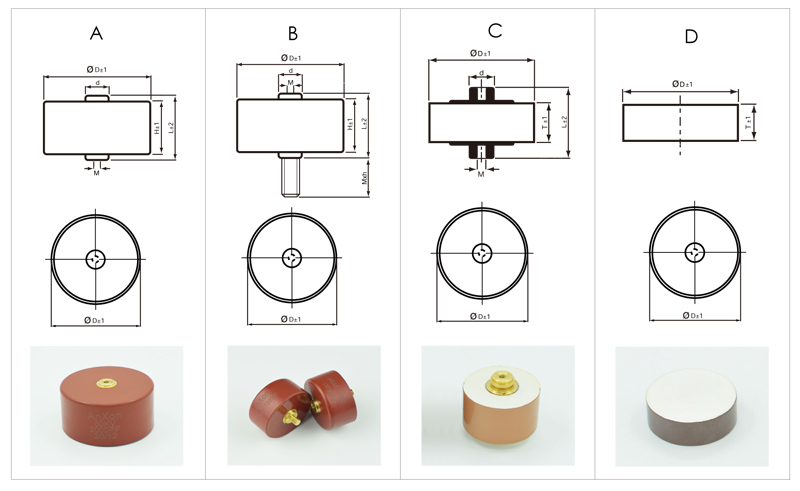 Main Ceramic Materials


No.

Dielectric
class

Typical
dielectric
constant

Operating temperature
range (ºC)

Capacitance
change with
temperature (%)

Dissipation factor
(1kHz/ 1VRMS/
20ºC)

Insulation resistance
(1000VD/
20ºC/60s)

AnXon
dielectric
code

1

NPO(C0G)

100

-40/+125°C

±60ppm/°C

0.05%

>100GΩ

N1

2

SL

290~300

-40/+85°C

+350/-1000ppm/°C

0.05%

>100GΩ

G3

3

DL

450

-35/+85°C

±650ppm/°C

0.05%

>100GΩ

C4

4

DL

650~700

-35/+85°C

±2.0%

0.06%

>100GΩ

C6

5

DL

850~900

-35/+85°C

±3000ppm/°C

0.08%

>100GΩ

C8

6

N4700

2000~2200

-35/+85°C

+22/-33%

0.20%

>100GΩ

E4

7

Y5T

1500

-35/+85°C

+22/-33%

0.20%

>100GΩ

D1

8

Y5T

2500

-35/+85°C

+22/-33%

0.20%

>100GΩ

D2

9

Y5T

3500

-35/+85°C

+22/-33%

0.20%

>100GΩ

D3

10

Y5T

5000

-35/+85°C

+22/-33%

0.20%

>100GΩ

D5

11

Y5S

4500~4800

-35/+85°C

±22%

0.20%

>100GΩ

S4

12

Y5P

1500

-35/+85°C

±10%

1.50%

>100GΩ

P1

13

Y5P

2500

-35/+85°C

±10%

1.50%

>100GΩ

P2

14

Y5P

3600~3800

-35/+85°C

±10%

1.50%

>100GΩ

P3

15

BN

3600~3800

-35/+85°C

±10%

1.00%

>100GΩ

B3
Main
Applications

The main applications include live line indicators, AC dividers, grading systems for power distribution network, protection for
HV switches and power circuit breakers. Coupling, by-passing high frequency circuits also use HV ceramic disc capacitors.
Laser pulses circuitry, high energy and high voltage test equipment (HV accelerators, physics research) require products
especially adapted to their specific requirements.
• High voltage supply for gas laser
• High-voltage dividers
• Marx generators, Power generators
• High voltage columns for collider of HV accelerator
• High-voltage coupling devices
• Power line coupling system for Internet & Telecom
• Lightning arresters, voltage distribution systems
• HV Power Supply for X-ray, excimer lasers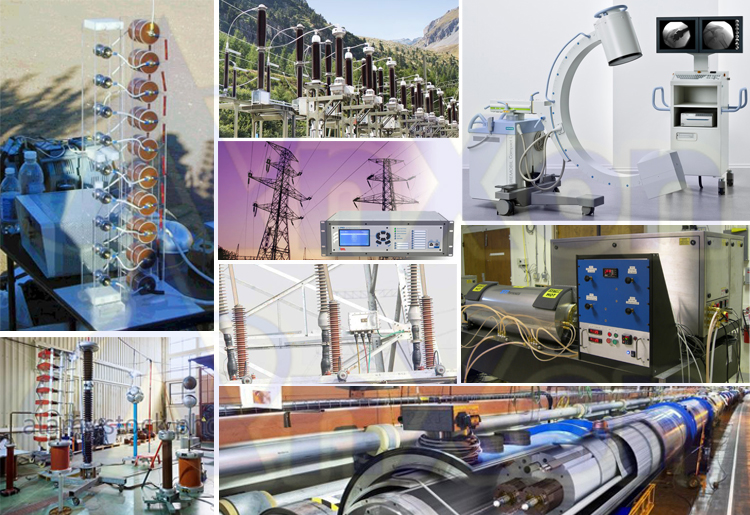 Production & Quality Management
High voltage doorknob ceramic capacitors from AnXon are 100% tested of the below parameters
• Capacitance
• Tolerance
• Dielectric withstanding voltage
• Dissipation Factor
• Insulation Resistance
• Partial discharge
• Lightening impulse voltage: sampling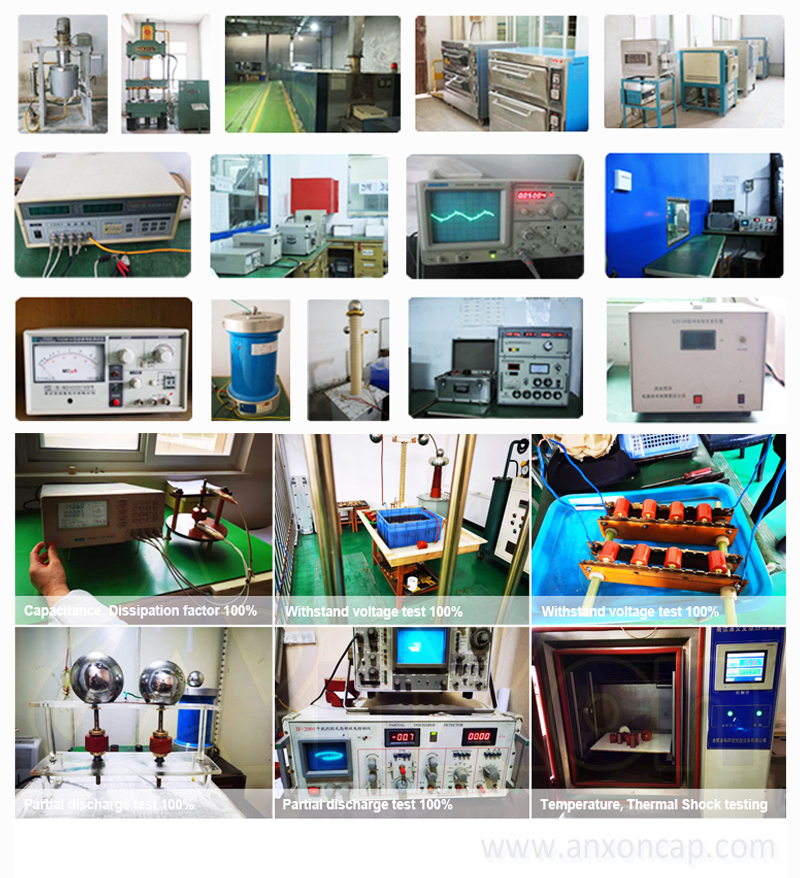 AnXon Company


Cixi AnXon Electronic Co., Ltd is a leader in the design and manufacture of complex electronic ceramic components
and assemblies used in a wide range of applications and cutting edge technologies. Specialized manufacturer and
supplier of high voltage ceramic capacitors, doorknob capacitors, pulse power capacitors, RF power capacitors,
AC live line capacitors, high Q capacitors, high temperature capacitors, high quality customize design ceramic
capacitors, high voltage capacitor banks for high energy pulses and storage.
Main Products:
1). High Voltage Disc Ceramic Capacitors
HV ceramic disc capacitors, ultra HV screw doorknob capacitors, AC live line capacitors, Voltage Multiplier Assembly,
Ceramic capacitor stacks, Pulse power capacitors, HV AC ceramic capacitors, Ring style high voltage ceramic capacitors
2). RF power ceramic capacitors,
Disk / plate capacitors, Water cooled power capacitors, Feedthrough RF capacitors, Tubular ceramic capacitors
3). High Q power ceramic capacitors
High Q multilayer capacitors, RF / Microwave Multilayer Capacitors, High Q MLCC
4). High Voltage Chip SMD Ceramic Capacitors, High Voltage MLCC
250V, 500V, 1000V 1KV, 1500V, 2000V 2KV, 2500V, 3000V 3KV, 4000V 4KV, 5000V 5KV, 6000V, 6KV, 7000V, 7KV, 8000V,
8KV, 9000V, 9KV 10KV HV MLCC
5). High temperature Chip SMD ceramic capacitors, High temperature MLCC
125°C, 150°C, 175°C, 200°C, 250°C, 300°C Radial Leaded High Voltage Ceramic Capacitors, HV MLCC
125C, 150C, 175C, 200C, 250C, 300C High Temperature HV Multilayer Chip SMD Uncoated Ceramic Capacitors MLCC