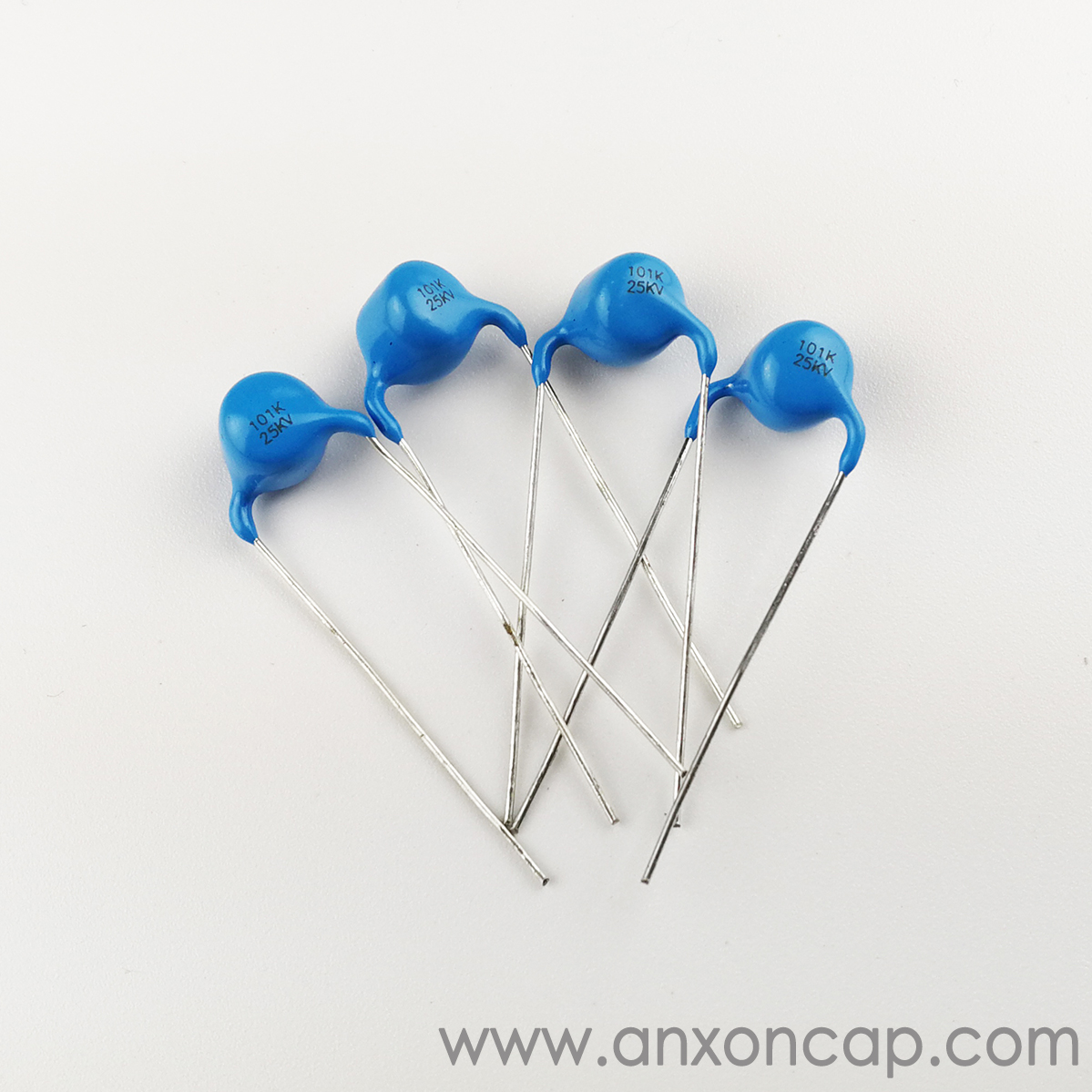 AnXon CT81 25KV 100PF 101 Medical Machine Lead Ceramic Disc Capacitor
Model Number: CT81
Type: CERAMIC CAPACITOR
Place of Origin: Zhejiang, China
Brand Name: AnXon
Capacitance: 100PF, 100PF
Media Available: datasheet, Photo
Tolerance: ±10%
Package Type: Through Hole
Rated Voltage: 25KV, 25KV
Operating Temperature: -40 ~ +85℃
Application: High voltage, Hight Voltage
Name: Ceramic capacitor
Material: N4700
Capacitance tolerance: 10%(K)
Shape: Round disc
Terminal: Lead Wire
Color: Blue Coated
Certificate: RoHS/CE/ISO9000
Description
Product Description

AnXon CT81 25KV 100PF 101 High Frequency HV ceramic capacitor

High Voltage Ceramic Capacitor, Radial lead blue coating epoxy resin disc ceramic capacitor offered by AnXon Electronic, high quality ceramic capacitor supplier
| | |
| --- | --- |
| Rated Spec: | 25KV 100PF, 25KV 101 |
| Tolerance: | K ±10%, J ±5% available on request |
| Type: | Radial leaded / disc / THT through hole mounting |
| Ceramic Dielectric: | N4700 |
| Operating Temperature: | -25°C to +85°C |
| Size / Dimension(ΦD×T*F): | D:7.5mm, T:8.5mm, F:10.0mm |
High voltage ceramic capacitors are made of ceramic dielectric. The main features of high voltage ceramic capacitors are excellent withstand voltage. Used for various AC and DC high voltage circuit applications.

AnXon high voltage ceramic capacitors can be customized according to special requirements, take internal parallel or series design to achieve high voltage, large capacity, high operating frequency, high withstand impulse voltage, ultra-low partial discharge requirements and other requirements can meet the different needs of customers.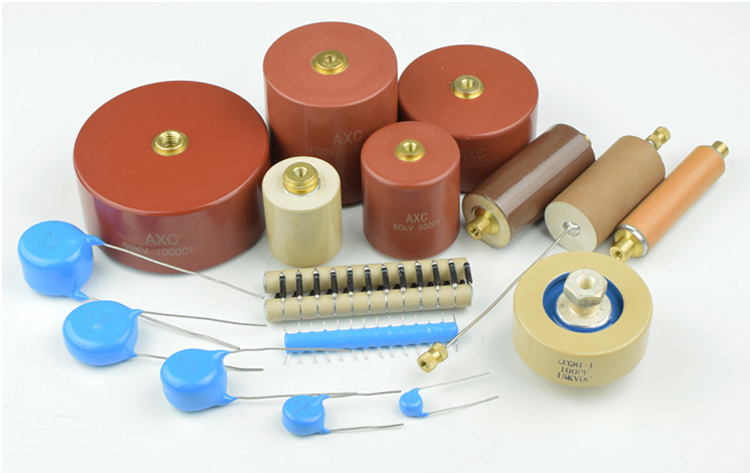 Ultra-High Voltage Ceramic Disc Capacitors

AnXon designs and manufactures high quality ultra-high voltage disc ceramic capacitors with blue coating epoxy resin, custom design radial lead disc ceramic capacitors as well as a variety of standard and custom High Voltage & High Capacitance value Ceramic Capacitors.
• Rated Voltage (V): 1KVdc-50KVdc
• Capacitance Range: 10pF - 10000Pf
• Operating frequency: 20KHZ-1000KHZ
• Materials: K100, K300, K2500, K3500, K5000, NPO, C0G, SL, N4700, Y5R, Y5S, Y5T, Y5P, Y5U, Y5V, Z5U, Z5V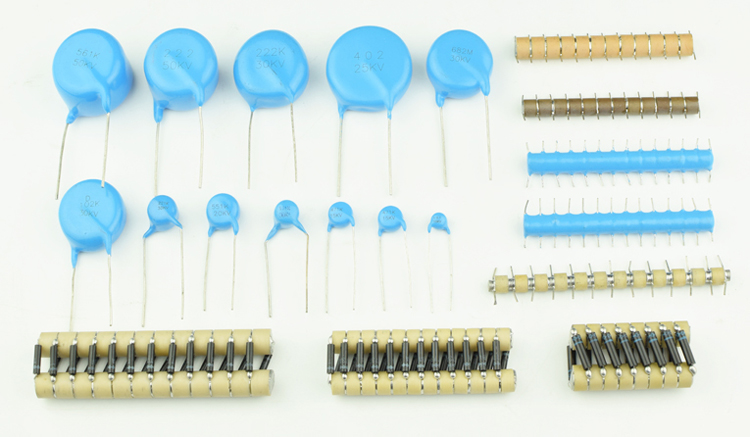 More related specifications

Custom design radial lead disc ceramic capacitors are available from AnXon electronic, please contact us for details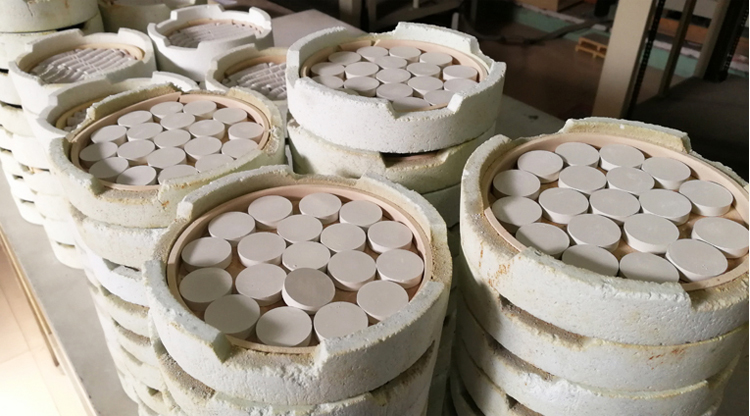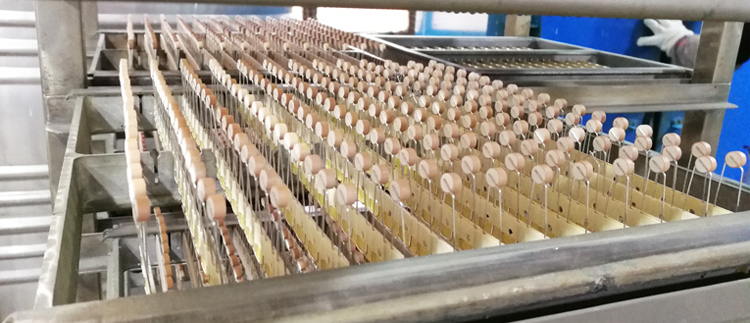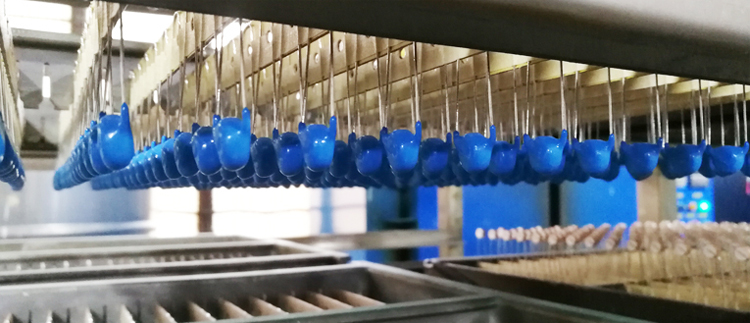 Products Application

High voltage capacitors are specially designed for high voltage applications, such as:


• DC-DC converters, Voltage multipliers,
• Radio and TV receiver, Modems, Interfaces, TV and monitors
• Other electrical appliances where high voltage is present
• High voltage power supplies, HV power supplies
• Electrostatic coating, Arc spray and sputtering, Electrostatic cleaning power supplies, Ion generator power sources
• X-ray equipment, medical machine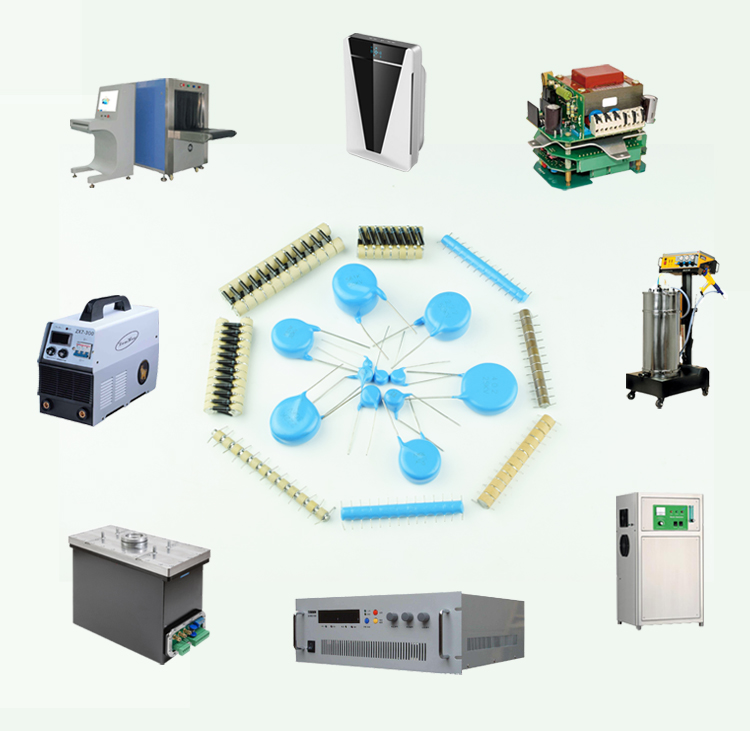 Quality Control

High voltage radial lead disc ceramic capacitor from AnXon are 100% tested of the below parameters


• Capacitance
• Dielectric withstanding voltage
• Dissipation Factor
• Insulation Resistance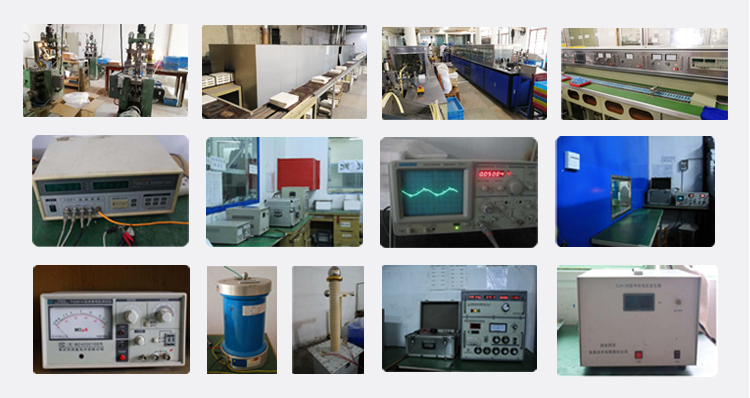 Certifications

Our Company

Cixi AnXon Electronics Co., Ltd. has been committed to provide customers with proven, reliable and customized electronic components. After more than ten years of development, AnXon ceramic capacitor products have successfully replaced imported international brands AVX, TDK, Murata, Vishay also exports a large number of markets in North America, South America, Europe, Middle East and Southeast Asia.



Caution Notice

Caution (Rating)

1. Operating Voltage
When DC-rated capacitors are to be used in AC or ripple current circuits, be sure to maintain the Vp-p value of the applied voltage or the Vo-p which contains DC bias within the rated voltage range. When the voltage is applied to the circuit, starting or stopping may generate irregular voltage for a transit period because of resonance or switching. Be sure to use a capacitor with a rated voltage range that includes these irregular voltages.

2. Operating Temperature and Self-generated Heat

Keep the surface temperature of a capacitor below the upper limit of its rated operating temperature range. Be sure to take into account the heat generated by the capacitor itself. When the capacitor is used in a high frequency current, pulse current or similar current, it may self-generate heat due to dielectric loss. The applied voltage load should be such that the capacitor's self-generated heat is within 10°C at an atmosphere temperature of 25°C.

Notice (Rating)

Capacitance change of capacitor
1. Class 1 capacitors
Capacitance might change a little depending on the surrounding temperature or an applied voltage. Please contact us if you intend to use this product in a strict time constant circuit.
2. Class 2 and 3 capacitors
Class 2 and 3 capacitors with temperature characteristics B, E and F have an aging characteristic, whereby the capacitor continually decreases its capacitance slightly if the capacitor is left on for a long time. Moreover, capacitance might change greatly depending on the surrounding temperature or an applied voltage. So, it is not likely to be suitable for use in a time constant circuit. Please contact us if you need detailed information.